Celebrate, Remember, Give: Honoring Tarome "Coolaide" Wright's 52nd Birthday and Legacy
Sep 29, 2023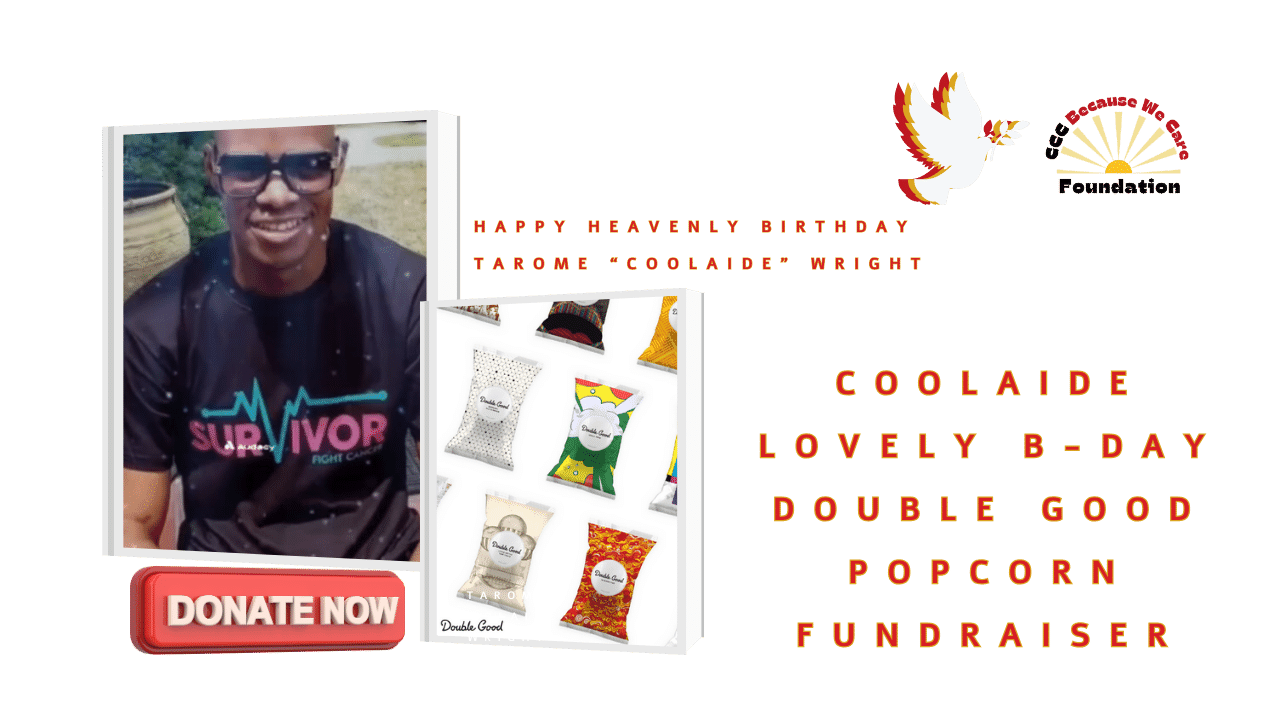 Join Team Coolaide Lovely Bday in the Double Good Fundraiser
This September 30 - October 4, 2023, let's gather together to celebrate the joyous spirit and infectious laughter of Tarome "Coolaide" Wright on what would have been his 52nd birthday. Through Team Coolaide Lovely Bday's Double Good Fundraiser, in partnership with CCC Because We Care Foundation and Lovely Day Community Home, we're aiming to raise funds for cancer awareness and spread smiles through random acts of kindness in our community.
About CCC Because We Care Foundation
501 c3 organization established 14 years ago
Organizer of the impactful fundraiser - Rock the Mic talent showcase (Coolaide was the host - 2010)
Devoted to celebrating and supporting individuals who infuse joy and laughter into the lives of others
Lovely Day Community Home: A Legacy of Giving
Founded by Janet Wright in 2021
Inspired and named after the comforting and uplifting "Lovely Day" by Bill Withers (one of Cooolaide's favorite songs)
Before Coolaide passed, Created as a beacon of love and support for cancer survivors and a hub for generosity in the community
A living tribute to Tarome, whose life and comedy brought light and laughter to many
Coolaide Lovely Day with Double Good: Our Fundraiser
Celebrating Tarome "Coolaide" Wright's 52nd Birthday and Legacy
Dedicated to raising funds for cancer awareness and fostering acts of kindness
Running from September 30, 2023 to October 4, 2023
How You Can Support
Visit our fundraiser page here.
Participate in the Double Good Fundraiser by Team Coolaide Lovely Bday
Let's Celebrate and Give Together!
As we remember Tarome on his birthday, let his legacy of laughter, generosity, and love inspire us to give selflessly. With your support, we can make a significant impact on cancer awareness and bring smiles to faces with our acts of kindness. Mark your calendars and join us in celebrating and giving from September 30 to October 4!
For more details, please visit our fundraiser page. Your support makes a world of difference! I can. I Will. I Must. Let's go!
Unleash the Power of Your Spending with Tranzact Card! 
Take charge of your spending with Tranzact Card! With quick and easy access to more powerful rewards and double your buying power, Tranzact Card is the perfect way to make your money work harder for you. Unlock the power of your spending today!
Discover the revolutionary way to bank here
Join our community to stay connected with news and updates!
Join Own It. Design Your Reality with AI emailing list to receive the latest news and updates to transform passion into profit with support.


We hate SPAM. We will never sell your information, for any reason.